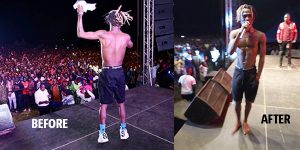 If there is anyone that can attest to the wrath of the Bakiga, then it is Fik Fameica. Over the weekend, the "Born to win" hitmaker was in Kabale for a concert at which he was stripped to the dot.
During the performance, Fameica got lost in the heat of the moment and he was seen jumping into the ecstatic crowd.
However, unlike the Kampala crowds that are a bit tolerant, the Kabale revellers utilised the opportunity to strip him of his shoes, chains, shirt among other valuables leaving him with nothing but his shorts.
The confused Fameika was seen continuing his performance shirtless in perhaps a look of a child that has just learned his lesson.
The next time Fik chooses to jump into a crowd, we are sure it won't be in Kabale.