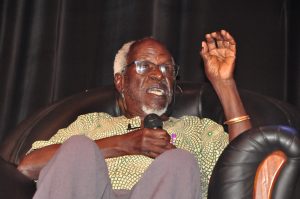 Professor Taban Lo Liyong, the legend of East African literature has said that Bobi Wine is a saint waiting to be canonised.
Lo Liyong, himself a contemporary of Kenyan author Ngũgĩ wa Thiong'o is town for the 6th edition of the Writivism Festival that is happening at the Square Place in Kampala.
In an interview with Matooke Republic at the National Theatre where he delivered a keynote address, Prof Lo Liyong lashed out at the young generation that is not willing to die for their values and beliefs.
"The era of sainthood is not dead. In our days, the kings and politicians with their big jawbones did not allow us to express ourselves but we did anyway. The Uganda Martyrs are saints now because they stood their ground. What are you doing with your youthfulness?" he questioned.
Lo Liyong noted that he while he was reading the newspapers, he noticed freedom fighters that were tortured and arrested for fighting for people's rights. He said such people are saints in making waiting to be canonised – by the people.
"When you're in such a situation, people should show you, love. They should bring you food so that you feel that you are not alone and that what you did and stood for was indeed the right thing. You don't need the pope to canonise you. Let the people do that," he added.
"If Ngũgĩ wa Thiong'o could write, against all odds, and be imprisoned (for his truth), then what's stopping you from using your words?"
Lo Liyong further warned that if Ugandans do not take advantage of this time, the opportunity of regime change might pass them arguing that rights are not given but rather fought for.
"Rights are not given. You fight for them. If the room is not enough, enlarge it," he said.
Lo Liyong also lashed at Ugandans for the poor reading culture saying that it has affected creative writing in the country. He lauded initiatives like Writivism for attempting to revive the culture of reading among Ugandans.
"Charles Dickens used to read out loud. Invite people to reading sessions, just like stand-up comedy. Encourage people to have something to talk about," he said.
Writivism started in 2012 to promote creative writing and literature in Uganda. This year's theme is 'Legac(y)ies' and feature legendary authors including Gorretti Kyomuhendo Akwaeke Emezi (Freshwater), Ijangolet Ogwang (An Image in a Mirror), Mugabi Byenkya (Dear Philemona), Dami Ajayi (A Woman's Body is a Country), Shadreck Chikoti (Azotus the Kingdom) among others.
Comments
comments