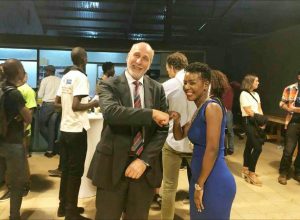 The European Union Ambassador to Uganda, H.E Attilio Pacifici has routed for the creation of more safe spaces for the youth to innovate as a cardinal way of solving youth unemployment in Uganda.
Pacifici was speaking at a dialogue organised by KQ Hub Africa at the Design Hub in Kampala to commemorate the annual International Youth Day.
He noted that despite the government, Civil Society and other efforts, youth in Uganda remain underpaid, poorly skilled and incapable of creating sustainable income generating opportunities since almost 70% of them live in rural areas and are in the informal sector.
"We need to replicate safe spaces like Design Hub to rural areas so that the youth there can be included in the skilling, vocational training and financial management. This is how we will be improve, create and add value to them," Pacifici said.
He challenged the youth to use their energy, numbers and education to turn their critical mass into opportunities to create change.
"Ugandan youth are a powerful force of 32 million but they hardly participate in any activities. We need to understand that small changes add up to something big. Don't just sit there, create something to solve a problem in your community," he added.
Joseph Wabwire, the founder of KQ Hub also encouraged fellow youth not to wait on the government for handouts, jobs and service delivery but rather use the available resources to create income generating ventures.
"I hear my colleagues saying the government should give us this, we need that, but this government survives off your hopelessness. We need to show them that with or without their help, we can do something."
The ambassador shared the platform with several other speakers such human rights activist and lawyer Nicholas Opiyo, Suzane Muhereza, Neema Iyer, Brian Mutebi, David Ogutu, Carina Juilfs, Angela Mirember and Mildred Openyo.
SaveSave
SaveSave