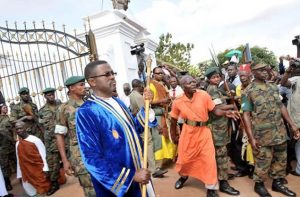 When Kabaka Ronald Muwenda Mutebi was coronated, Charles Peter Mayiga, a young lawyer of 29 years was one of the four lawyers that appended signatures on the coronation documents.
Mayiga, already a practising lawyer at the time, had been hired in June 1991, as the Clerk to 'Lukiiko Lwa Ssabattakka' (Ssabattakka's Supreme Council), the Council that had numerous meeting with the central government prior to the restoration of the Buganda Kingdom as we know it.
According to Mayiga, he was hired to coordinate the Council's activities since he was "always on his feet and knew the law very well."
Prior to his appointment as the Clerk, Mayiga had been a Junior State Attorney but had resigned to personal business in Kikuubo as a trader.
In 1992, the Ssabattakka Supreme Council expanded in membership to incorporate a member from each clan of Buganda and eventually changed the name to the 'Lukiiko (Parliament) of Buganda with Charles Peter Mayiga as the Clerk.
His legal mind elevated him from Kikuubo to Nnagalabi Hill in Buddo where the Kabaka was coronated in 1993.
Of the lawyers who signed on the Kabaka's oath, was a 29-year old Charles Peter Mayiga alongside other seasoned lawyers such as J.W Katende, Godfrey Lule, Peter Muliila and Nkaba Mugerwa.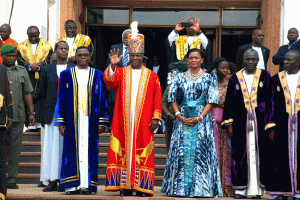 Resignation Part One
After the Coronation, however, Mayiga decided that he was better off in private law practice and he asked to meet the Kabaka to granted his request to relinquish duties in the Lukiiko to start his own law firm.
In March 1994, he together with his old friend from Makerere University, Francis Buwule started the Buwule and Mayiga Advocates that stands up to date.
However, three months into private practice, Mayiga got a notice from the Kabaka appointing him as a Member of the Lukiiko before being elevated to State Minister for Parliamentary Affairs with Owek. Dan Kajumba as the Cabinet Minister in the Buganda government in 1995.
In 1996, the Kabaka appointed Mayiga a Cabinet Minister for Youth Affairs and three months later, added him the Cabinet docket as well making Mayiga the minister for Youth and Cabinet Affairs.
When Kajumba returned to the United Kingdom in 1997, Mayiga also took over the docket of the Lukiiko. And in 2002, he became the Information Minister and Spokesperson of the Kingdom as well – a Super Minister so to speak.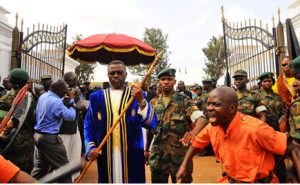 Resignation Part Two
In December 2005 however, when the then Kattikkiro, Mulwanyamuli Ssemwogerere resigned his duties after 11 years having taken up the position in 1994, Mayiga also retired from Kingdom duties after 15 years of service to the Kingdom.
A number of other officials also retired during this time including Owek J.C Muyingo, J.W Katende, Kaaya Kavuma and others as a result of disagreements with the central government.
But despite having resigned as Minister and other duties, Mayiga remained on several other committees and roles such as Buganda Land Board, Director CBS Radio among others.
When the Kabaka appointed Owek. J.B Walusimbi as Katikkiro in 2008, he summoned Mayiga and asked him to serve as Minister in the new Prime Minister's government in the same docket as before.
Road to Katikkiro
On May 12, 2013, Charles Peter Mayiga was appointed by the Kabaka as Prime Minister of Buganda replacing J.B Walusimbi.
In his words, it was a time of reflection not only on his new role but mostly the responsibility it carried. His achievements are a story for another day.
But as Buganda marks 25 years of the Kabaka's Coronation, Mayiga also makes five years on the as Prime Minister.