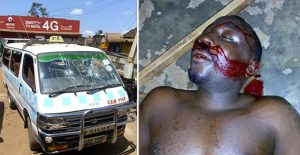 Fred Katongole, a former Flying Squad operative and resident of Namugongo has been lynched to near death after being caught red-handed robbing using a taxi Reg No. UAM 998F around Wankulukuku.
It will be remembered that Katongole was a friend to the late Kato Pius and Henry Majwega who were both killed in action at Bweyogerere and Kasangati back in 2012 and 2014 respectively.
All these worked for flying squad as operatives yet they were serial robbers commanded by Faisal Katende now facing criminal charges in the General Court Marshal.
Katongole was also arrested and charged back in 2014 with robbery when the then police spokesperson Judith Nabakooba was beaten by criminals.
He was detained for three years but upon return, his in-law called Mutyaba took him to Herbert Muhangi, the detained former Flying Squad boss was enlisted into flying squad alongside other 50 criminals were also recruited.
The suspect is currently being detained at Wankulukuku police station.