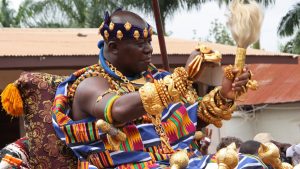 Otumfuo NanaOsei Tutu II is the 16th King of the Ashanti Kingdom in Ghana, a very powerful kingdom in Ghana. The 68-year-old Ghanaian King and ascended the throne in April 1999. He is the absolute monarch and head of the Ashanti Royal house of Oyoko. After studying in the United Kingdom, he worked briefly in private and public organizations and later Canada before returning to Ghana in 1989.
The money and respect
While in Ghana, Otumfuo set up a $12M (Shs44.2B) company that provides mining equipment to several large industrial companies in Ghana called Transpomech. The King also owns an extensive real estate in Ghana and South Africa as well as a collection of valuable gold crown jewels as always seen all over him. He goes by the appellation, 'OteKokoosuo Nana' to mean 'The King Who Sits On Gold' and it is obvious money means nothing to him.He controls a large portion of the region and has a lot of chiefs who pay homage to him.His authority in the Ashanti Region has no bounds and he is highly respected and honored by his people. They even respect him more than the president of the country and there is no president in Ghana who can decide to send a message across to his people and not pass through him and will succeed. He holds a lot of power in the region and commands a lot of authority in the country. The Asantehene is Africa's fifth richest king according to estimations by Forbes. The King is estimated to be worth $10M (Shs36.5B) and his source of wealth, according to Forbes, is from mining equipment, property and jewelry.
The Asantehene yesterday July 29, arrived in Uganda for the 25th anniversary of the coronation of the Kabaka of Buganda, Ronald Muwenda Mutebi II. He is the Guest of Honour for the event, slated for tomorrow July 31.