With four days to the Bugiri Municipality by-elections slated for Friday July 27, contender in the race on JEEMA ticket Asuman Basalirwa has revealed that he harbours presidential ambitions.

While appearing on NBS TV Morning Breeze Show, Basalirwa disclosed that the by-election is his first task to the 'long walk to State House'.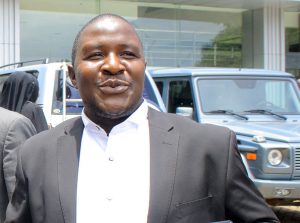 "I'm not only thinking about being an MP, we have ladders and I'm thinking about how I can become a president. I'm looking beyond Bugiri," Basalirwa stated.
"My opponent in Bugiri is NRM; my struggle is to ensure we rid Bugiri of NRM, to rid Uganda of NRM. I'll win the Bugiri election with 70%."
However, he stretched that some individuals are scared of his target as he said; "Part of the problem I have with people is they know that when I go to parliament, I might get to higher positions."
But Basalirwa assured them that he will not lose touch with the common people. 

Four more candidates are in contest for the seat; John Francis Oketcho (NRM), Eunice Namatende (FDC), former Bugiri district LCV Chairman, Hajji Siraji Lyavala Samanya and Joel Wamono, both Independents.