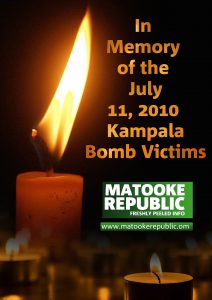 Not only shall we forever remember the 2010 FIFA World Cup for being the first World Cup to be hosted in Africa, we shall re-live the ever fresh tragic scenes that shocked the football fraternity when 76 people lost their lives in the July 2010 bombings that happened in Kampala.
Thousands of Ugandans and foreigners alike had gathered in various hang-outs to cheer on their favourites between Spain and the Netherlands. It was a special treat Kyadondo Rugby Club where a giant screen had been erected for its clients to feeling apart of the live event that was going on in South Africa.
Before the kickoff, fireworks marked the start of the game; then the Vuvuzela took over. At halftime, a deadly explosion occurred at the Ethiopian Restaurant in Kabalagala killing 14 people but the news never reached the fans at the rugby club until the almost an hour later.
The second attack, consisting of two explosions occurred at 11:18 pm just a minute shy of the final whistle. This meant that the fun-filled event ended in sorrow that covered the entire world.
A total of 76 were confirmed dead and 71 escaped with serious injuries. 62 of the victims were Ugandans and the rest were from Kenya, Eritrea, India, USA, and Ethiopia.
Al-Shabaab, a terrorist outfit in Somalia that has ties with the Al-Qaeda came out a day later through Ali Mohamud Rage, their spokesperson, came out and claimed to be the masterminds of the deadly attack.
"We are sending a message to Uganda and Burundi if they do not take out their Amisom troops from Somalia. Blasts will continue and it will happen in Bujumbura [Burundi's capital] too," he threatened.
Precautions ahead of Sunday's WC Final Once again, the 2018 FIFA World Cup final is upon us. With vigilance to avoid the re-occurrence of such tragic incidents, police this week issued security guidelines ahead of the highly anticipated game.
Speaking to the journalists at the police headquarters in Naguru, Police Spokesperson Emilian Kayima revealed that there will not be an open screening of the game adding that only venues with closed and traceable outlets will be allowed to show the game.
"We shall not allow people who want to show the match in open places because such places are difficult to control," Kayima said.
In addition, all venues must be well manned, with ample lighting, alternative escape routes and security machines like scanners among others. Kayima further urged individuals to be vigilant while watching the game and report any suspicious elements.
"We encourage the public to report everything, anything that looks out of place and most importantly to look out for one another," he added.
Comments
comments