With all the pre-tournament top contenders out of Russia, France now look like clear favourites to claim their second title and end 20 years of waiting. Tuesday's narrow 1-0 semi-final win against the perennial dark horses Belgium,  was perhaps the clearest indicator that France  were the best equipped team of all those left in the tournament  when it comes to personnel.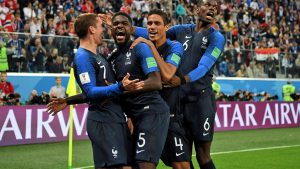 The French team has been a case study in defensive organisation, midfield composure and attacking efficiency. In many ways, they are a perfect replica of the team that won France's first and only World Cup crown 20 years ago. Unlike at Euro 2016, where Didier Deschamps' pool of talent looked immature in certain games, this time round the likes of Paul Pogba, Antoine Griezmann, Kylian Mbappe, Raphael Varane have been impressive, sometimes displaying a maturity beyond their years in Russia.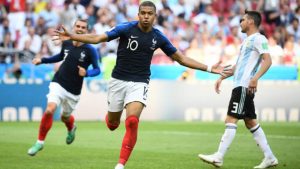 France's style has been influenced by the opponent they have faced, and that ability to vary their approach is in itself a sign of maturity. Against Argentina in the Round of 16 they used pace to break their opponents' resistance. Their 2-0 quarter final win against Uruguay was attained on tactical brilliance while utilising the few chances they created in front of goal as effectively as possible.
Up against the 'Golden Generation' of Belgium that had players like Kevin De Bruyne, Eden Hazard and Romelu Lukaku, France used the renown Deschamps qualities of sitting back and waiting to pounce. It worked perfectly, despite Belgium teasing them all through in front of goal, they showed high levels of know-how to override a serious challenge.
Come Sunday France will head into the final with bragging rights of being the only country left in Russia to have won the World Cup most recently. As the 2018 edition has showed no team came to make up numbers but rather challenge for the top prize, predicting a winner in a tournament defined by upsets as has been the case in Russia will be difficult, but it is advantage France.
FULL TIME ANALYSIS
And the flops of Russia 2018 are…
Most football fans you spoke to before June 14 this year would have had you convinced David De Gea would confirm himself as the world's best goalkeeper, and that Neymar would be competing against himself for this year's Ballon D'Or. For the former, it only took 45 minutes of World Cup action for any such illusions to be buried, while for the latter, the Brazilian forward exited Russia with his reputation as a diver much more enhanced than his World Player of the Year credentials ever will be. But then, were they the only stars to disappoint in Russia? Certainly not. So here is our Matooke Republic Team of the Weak:
David De Gea
He came into the World Cup hoping to establish himself as the undisputed Number 1 in world football. He ended up providing probably the number one gaffe by a goalkeeper in Russia.
Danilo
Danilo was not expected to kick a ball at this World Cup, until Lady Luck smiled on him when Dani Alves got injured, making the Manchester City defender Brazil's first choice right back. He was easily the worst choice, adding little to Brazil's attack until an injury put him out of his misery.
Khalidou Koulibaly
The Senegal centre back was supposed to strike fear into the hearts of attackers, yet by the final group game, he was only striking fear into the hearts of his country's fans.
Raphael Guerrero
The Portuguese left back had enjoyed a stellar Euro 2016 but anyone who had hoped for a repeat from the Borussia Dortmund star would have been left very disappointed.
Sergej Milinkonvic-Savic
The man also known as SMS had been touted as a potential 100m pound signing for Manchester United before the World Cup kicked off. Lazio would do well to get half that amount for their Serb midfielder in the wake of his underwhelming showing for his country.
Gylfi Sigurdsson
Missing a penalty when your country relies a lot on set pieces sounds like the kind of thing that happens when Iceland's star man is having a poor tournament, like Sigurdsson had.
Bernardo Silva
Heralded as the new David Silva, and coming off a domestic season where he gave hints of the amazing  things he could do with a football, Bernardo Silva's performances for Portugal were mostly forgettable.
Ousmane Dembele
That Dembele started France's first game ahead of the likes of the more established Blaise Matuidi says everything about the trust Dider Deschamps had in him. He betrayed that faith, and Deschamps doesn't forgive easily. Dembele was exiled to the France substitutes bench thereafter.
Sadio Mane
Football fans turned on their TV sets and went to stadium expecting to see the Liverpool Mane, the man who gives defenders nightmares. Instead they got the Mane who managed to beat Alex Iwobi to a place in the Team of the Weak.
Timo Werner
The easiest way to compile this team could have been to list Werner's German national team colleagues, but much more was expected of the young forward. He did not manage a shot on target in three games.
Robert Lewandowski
The greatest lie of all in Russia, however was Bayern Munich's 30+ goal getter, Robert Lewandowski. You would never tell he was the top scorer in the World Cup quali