Keeping true to his 'ghetto president' moniker, singing legislator Robert Kyagulanyi aka Bobi Wine escaped police arrest in Kampala earlier this morning. The singer was joined by journalists Raymond Mujuni, Joel Ssenyonyi, singer A Pass, Hilderman and others as they led a demonstration against social media and mobile money tax downtown. Clad in red, the group were blocked by Police as the crowd gained numbers.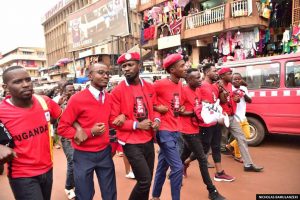 A scuffle ensured as police swung in to arrest the leading pack and ring leaders of the demonstration. Police fired tear gas to disperse the crowd.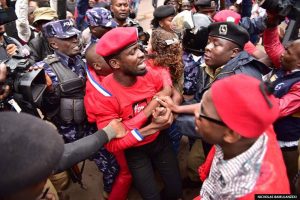 It was at this point that Bobi Wine pulled off yet another movie-like move as he escaped from police. According to eye witnesses, he changed from his red attire to all black as he sped off with a boda boda rider. Also singers A Pass and Dr.Hilderman were missing from the group.
However, Bobi Wine's brother, Chairman Nyanzi is currently at CPS.
By press time, calm had been restored downtown.
Comments
comments