As the 2018 Russia World Cup quarter final round kicks off tomorrow, depending on what has happened since its kick-off last month, it will go down in recent history as one of greatest editions not only because of the new VAR technology but also because it has indeed been filled with high drama and major upsets which have made us witness giants being belted.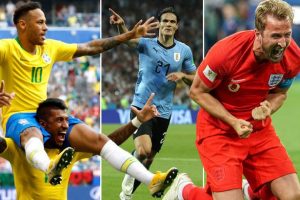 From hosts Russia, who many only expected get out of the group stage at best and join the spectators' crowd, they are utilising the home advantage to climb heroic heights, as Spain indeed found out. Even before Russia's heroics, we had already seen small nations overriding traditional powerhouses of world football. Iran narrowly missed out on making it to the next round after failing to kill off its game against now departed Portugal.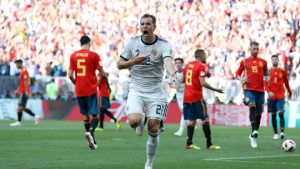 For Iceland, who can underestimate their improvement in recent years despite having a total population of only 330 000? And let's not forget how Germany were well beaten by their Group F opponents including South Korea whose tactical genius delivered a deserved 2-0 win and in the end ensured the world champions were eliminated.
In the Round of 16, Japan almost did the unthinkable with an upset against title challengers Belgium on the cards for a long period in their game before the Red Devils hauled themselves up from a two-goal deficit in a match which will have given Belgium coach Roberto Martinez food for thought regarding his current under-utilisation of Kevin De Bruyne in that vastly talented Belgium team. If Martinez can find a way to allow De Bruyne more attacking opportunity, the Red Devils could finally assert themselves in a tournament that continues to refuse to provide us with a clear favourite to lift the trophy. Just be sure of one thing though, the drama looks set to continue with all the finely balanced ties coming up starting tomorrow.
FULL TIME ANALYSIS
Tiki taka is not dead, but then…
Seeing Germany and Spain limp out of this year's world Cup after each had managed nearly four times more passes than the last opponents they played could have provided fresh ammunition for all the non-believers in the tiki taka philosophy. To write off tiki taka would be premature, however. What is certain though is that tiki taka, as this year's World Cup just proved, requires a perfection that perhaps no other football philosophy demands. It demands that EVERYONE of a team's players will be too good to waste or misplace a pass, because that is what put Germany in repeated trouble on the counter. The approach to possess the ball until opponents tire physically and mentally also requires that ultimately there is a special ability within the team  to suddenly up the tempo (like a younger Andres Iniesta used to ) or the special ability to not misuse a scoring chance (as a David Villa or Miroslav Klose never used to). Short of that, a tiki-taka team can easily look like an accident waiting to happen, and at this World Cup, two such accidents ended up happening.
Winners don't always look great
In the midst of the hysteria that comes with winning a World Cup, may fans (especially of the winning side) tend to delude themselves that their favourite team was oh-so-great. The evidence from the past tournaments suggests otherwise. Italy played one truly great game en route to winning the 2006 World Cup, while Brazil were solid but never spectacular as they clinched the trophy in 1994. Where could we possibly be headed with this? In Brazil's direction of course. The Brazilians have quietly gone about their business this World Cup since the scare they suffered in their opening group game against Switzerland, and if you are not too impressed by their football, at least you should be by their solidity. World Cups are not always won by the best team at the tournament, but often by the most solid. Brazil, Uruguay and Croatia would top that table, so take your pick.