President Yoweri Museveni yesterday retired 11 senior army officers. Among them was the controversial Maj. Gen. Kasirye Gwanga.
Gwanga had served in the force for 46 years after joining in 1972 as an artillery officer.
He was first retired in 2015 but complained to the Commander –in-Chief that he (Gwanga) could not live a civilian life. Museveni allowed him back in the army.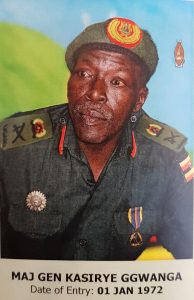 On March 5, 2018, he was promoted the rank of Major General and retired again but the no nonsense Gwanga who doesn't mince his words remained in active service and often appeared in public in military fatigue with a gun.
Matooke Republic rang him to find out if his retirement yesterday was the final one and his response was priceless.
"I am Kasirye Gwanga, a Major General. I went to the best military school in the world. I fought for your freedom, I cannot retire.
"Don't tell me about retirement. I don't give a damn about retirement. I am Major General Kasirye Gwanga."