Self-styled women rights activist, Dr. Stella Nyanzi could have unearthed concealed anger towards legislators! When Dr. Nyanzi visited ailing MP Hon. Betty Nambooze, she found her in a very disturbing health condition. Like a goodhearted citizen, she reached out to her Facebook followers to contribute towards her treatment.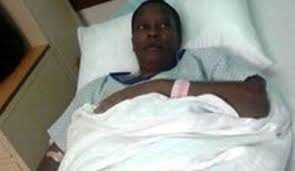 "I was moved when she held my hand and told me her most urgent medical need as she awaits to go to India for more surgery. Teacher Betty needs a Transcutenous Nerve Stimulator TENS to awaken her nerves which are dying. There is only one at Mulago Hospital, thus she only receives this therapy when a physiologist travels from Mulago to Kiruddu to treat her. This TENS is available in Kampala at a cost of 950,000/= UGX only. Where are the responsible citizens of Uganda to help ease our MP's suffering while in captivity? Please donate funds towards this TENS machine…", part of her post read.
However, Stella Nyanzi's noble plea seems to have irked her followers. They accused MPs of being self-seeking individuals who are using their positions to amass wealth.
Felix Lutaya commented, "They seek us in bad times but not when they want to endorse 200m for private cars or bogus wages and allowances,they are not fighting for anyone they are building careers,they know they are too common and big to be killed by the junta,their job is to eat tear gas,make noise that irritates the dictator and then run back up their high horses when election time comes,they split and bad mouth on each other,they make up shows,i only have loath and disdain for them".

Oscar Baale commented, "She earns 30 million, I am jobless, will contribute next time…thank you".

"On top of her monthly 30m And some allowances from Buganda caucus committees still  you want us the ordinary Ugandans to donate funds for her treatment?" another bitter fan commented.

John Senabulya stated, " Let her use her months salary".

According to reports, Hon. Nambooze needs urgent medical attention, preferably in India.
"Her pressure has continued going down, and the scan has already indicated that one of the screws holding the implants that were inserted into her in India following the infamous presidential age limit debate has protruded", a source stated.