Yesterday evening, President Museveni hosted a number of members from the Muslim community for a breaking the fast (Iftar) ceremony at State House. It was after this ceremony that President Museveni promised the Muslim community to construct a memorial site for Muslim martyrs (Shuhada) whom he claims he came to learn about on June 3, Martyrs Day.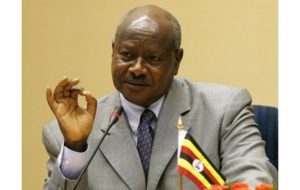 "On June 3rd, as we celebrated the Uganda martyrs, I came to learn that there were actually a good number of Muslim martyrs. I have agreed with the mufti to redeem the place where they were killed, about six acres, and construct a memorial for them", he said.
On Monday last week, the Uganda Muslim Supreme Council (UMSC) launched an architectural plan for the Muslim martyrs' site worth shs3b that is to be built at Namugongo in Wakiso district. A copy of this plan was given to president Museveni for support and he responded positively.
The deputy mufti of Uganda, Sheikh Hatwib Mukuluwakika also declared June 1 every year as the official day the UMSC will always commemorate those who died for Islam.
Who are the muslim martyrs
According to sources, Muslim fundamentalists from Egypt visited the Kabaka's court at Kasubi in the early days Mwanga's reign. However, whereas they were impressed by the spread of the new religion, they were unhappy at the king's un-Islamic conduct and reluctance to be circumcised.
The visitors reportedly started criticising the king and very soon, they incited the rest of the king's subjects to rebel against the Kabaka.
It was not long before the Kabaka's subjects started challenging him openly about his lifestyle. Where once hundreds would turn up for prayers, only a few would now show up. Most found excuses to be away from the palace while others simply decided to pray on their own.

Due to continued disobedience, the king later ordered for their killing in Namugongo.
Comments
comments