Following a chaotic 0-0 first leg match in the Uganda Cup between SC Villa and Vipers SC at Wankulukuku, Vipers has issued an official statement banning a section of Villa fans for their  acts of violence, use of vulgar language, hooliganism and unsporting conduct.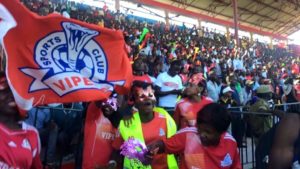 "As the healing process starts, we must start somewhere! Like they say, prevention is better than cure. We have hereby swallowed the bitter pill & made this strong decision for the good of the beautiful game. Football must win at the end of the day!!! Hooliganism has no room in football", Part of the statement reads.
The banned fans include; James Lutaaya, Selegious Katongole, Muhammed Lubwama, Peter Kizito, Bashir Juma, Henry Kizito, Jane Katende, Emmanuel Bukedde, Asaph Kasule, Jackson Lutaaya, Yusuf Ddamulira, Godfrey Akanyoreka, Salongo Sebyoto and Sunday David.
The reigning Uganda Premier League Vipers are chasing their maiden local double this season and will next week on Tuesday, June 5 play host to Villa in the return leg of the Uganda Cup.