While addressing press yesterday, Democratic Party leaders led by party President Norbert Mao revealed that ahead of their grand reunion party (Uganda Young Democrats alumni assembly) slated for May 23 at Makerere Rugby Grounds, various opposition figures from around the global have confirmed their attendance at the event.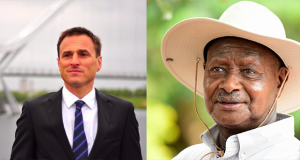 Former Prime Minister and Kenya's main Opposition Mr Raila Odinga and UK legislator Dr Paul Williams who called for resignation of President Museveni during this year's CHOGM are among the guests to grace the event.
"We assure the DP fraternity and the long suffering Ugandans that preparations for the grand reunion are now in full gear and there is no turning back. In solidarity with democracy seeking forces in Uganda, we have also invited leaders of political and civil society organization as well as all democracy seeking partners in the country,"Mao said.
Other guests expected at the function include Mr Nelson Chamisa from Zimbabwe, Senator Hassan Omar from Kenya, Mr Fikile Mbalula from South Africa and some ambassadors.
Comments
comments