BY PAUL JJEMBA
Snail farming is one of the most unusual businesses you will find in Uganda, but it is a most profitable farming option from which successful snail farmers like Edward Waiswa Nyende are enjoying fine rewards. Known as heliculture, snail farming entails domesticating slugs by recreating their natural habitat.
Waiswa, who is a resident of Kawempe and holds  a Bachelor's degree in Business Administration from Ndejje University told Matooke Republic in an interview that he was a radio presenter at Bamboo before he opted for heliculture, swapping the mic for large pens,  nets and used car tyres in which he cultivates the snails.
"I did not welcome this idea in the first place from one of my friends who hails from Nigeria. I remember he first told me to try out rabbits but later told me how profitable cultivating snails is. Because I did not have any idea what he was talking about,  I asked him to give me time as I do private research. After collecting the information I needed I decided to give it a try in 2015," Waiswa said.
He also explained that unlike many other farming ventures, snail farming requires little startup and operating costs.
Startup costs
"I only used Shs500,000 as starting capital since most of the materials I needed I got freely such as old car tyres, wood for constructing pens, except for labour and looking for the parental stock which I got from the eastern parts of Uganda," he revealed.
Relying on the 'Achatina maginata' and 'Achatina Achatina' African large snail breeds,  Waiswa said he waits for only six months for his snails to lay eggs and these breeds lay about 100 eggs in one go and since they are hermaphrodites, they reproduce quickly.
Wondering where Waiswa find the market for his snails? The 32-year-old farmer revealed  that his prized products end up in some of the kitchens of high-end Chinese and French restaurants around Kampala.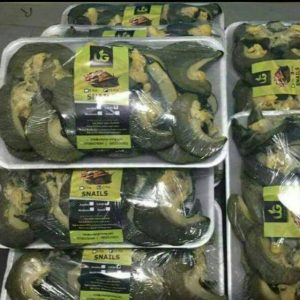 "I sell a kilogram of cleaned up (without shells) snails at Shs50,000 then the one with shells costs Shs30,000. With the parent stock, we sell them in counts instead of weighing them and most of the market for my snails comes from Congolese traders," he added.
Except for the effect of weather changes, Waiswa said snails are not easily affected by pests and diseases and he added that a part from their flesh being used as an edible escargot, snail slime can be used in cosmetics. It is little wonder that with such demand, Waiswa admitted he will not be turning away from cultivating the slow in nature but fast profit making creatures.
Comments
comments