Over the weekend, a rumour surfaced that self styled moneybags Bryan White had chased musicians from his podium.  Word was that he had run out of money to sustain them but a source within White's camp says it is not about money, because he has enough of it, but something else.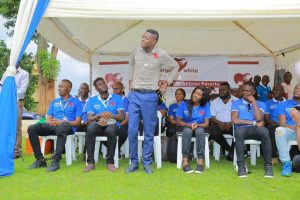 The legend of Bryan White continues to shock, amaze and surprise Ugandans. Over the weekend, there were rumours that the moneybag was not in good terms with the so-called Bryan White Foundation artistes. Hardly a day later, we confirmed that the petite-bodied socialite had successfully fired some of the big shots in Uganda's entertainment scene.
Bryan White came on the social scene last year with bags full of money and while many speculated about his source of income, he said he had inherited it from an Italian hubby to his late mother.
Very soon he started a foundation to "awaken youths from poverty" and he has been traversing the country making various donations. Part of the hallmark of the Byran White Foundation were celebrities – mostly musicians and comedians donning foundation uniforms and IDs accompanying Bryan White to whatever engagement he had.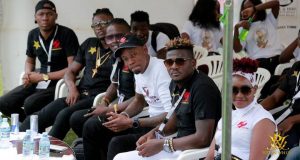 Being with Bryan White came to be known as being on the podium after a viral video where Bryan White admonished Weasel for leaving the podium before he had concluded his speech.
The celebrities were 'workers' of the 'Bryan White Foundation'. While details of their duty at the 'foundation' remains scanty, the celebrities gladly wore Bryan White Foundation branded uniforms and carried identity cards and name tags. We established that Jose Chameleone served as an advisor and had a different arrangement. Others were in-charge of organising the venue and welfare at the events. How the moneybag turned some of the most egoistical celebrities into coy loyal followers is only testimony of the power of money! The artistes used to arrive at the "podium" by 8am and wouldn't leave until Bryan White said so. They were ready to stay on the podium just to tie his shoe laces because of the financial trappings it came with, he had enough of them and fired them.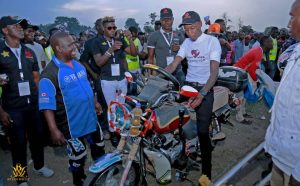 Rumour had Bryan White was forced to fire the celebrities after they started fighting over money, but an impeccable person on the podium told us that they were incompetent as they have been doing things contrary to the objectives of the foundation.
Hefty allowances and salary
According to sources, Bryan White offered his employees the dream life only UN staff could dream of! He paid the artistes a hefty amount of cash as daily allowance and also paid them a salary. They were reportedly paid between Shs200,000 to Shs300,000 as a daily allowance, but some earned a million or two.
Initially, the artistes were tasked to report to duty at least two times a week and at most three times. However with the guaranteed pay as long one showed up at the 'podium', artistes started showing up Monday to Sunday to Bryan White's Munyonyo residence that also served as the headquarters of the 'podium.'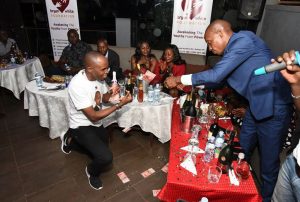 The fruits of the artistes 'labour' are evident. Perhaps one of the biggest beneficiaries and an early bird at the podium, DJ Michael was already dreaming of holding concerts later in the year! Why not? After all in DJ Michael's world all was okay. He shot videos and was also gifted a Mercedes Benz! Weasel posed on social media with wads of cash. To please the boss, some artistes also sang songs praising the hand that feeds them. After the Kilimanyi praise song featuring DJ Michael, Weasel and Cindy, Big Eye released 'Podium', a song inspired by the freebies he enjoyed. There are perhaps more songs in studio that might never be released after why fired them.
Lavish lifestyle
With money falling like manna in the artistes' financial desert, like people say, the money had to be eaten! For once, the artistes got a chance to live the moments they only get to portray in music videos. Yes, the artistes this time round were living large without digging into their own coffers. According to sources, the artistes had their feeding and drinking bills paid on a daily by Bryan White. They dined in places like Auto Spa, Speke Resort Munyonyo and Serena among others. Also, their fuel guzzling cars were catered for.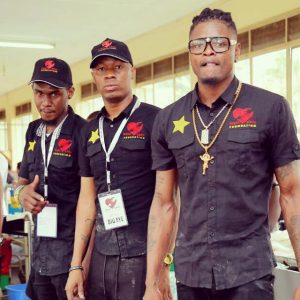 One thing that artistes in Uganda have on their hands is time. Hence, they had no qualms spending all day at Bryan White's house or moving with him wherever he was going, after all he was paying, some sources Byran White felt these celebs had become parasitic and he had to dissociate himself from them.
Demand for loyalty and utmost respect
With all these expenses, Bryan White demanded nothing but loyalty from the musicians while they were on the 'podium' after all, they had abandoned sweating in Kampala's night clubs and bars for a few shillings. Bryan White's iron hand reduced the once feared artistes to his pawns on a chess board. His legend grew bigger by the day as the artistes' esteem shrunk in the eyes' of most fans who felt he had reduced them to "beggars". In a record time, Bryan White was finally rubbing shoulders with Mengo officials, ministers and the clergy. It was at this moment that he moved his final piece and had his pawns in a check-mate situation.
In the recent events including a fundraising for Mackay Church of Uganda in Wakaligga, yesterday's flagging off of kick-boxer Titus Tugume to the US, an engagement with farmers organised by Bettinah Tumuhaise, Bryan White still had a convoy of human beings, but the musicians were conspicuously absent.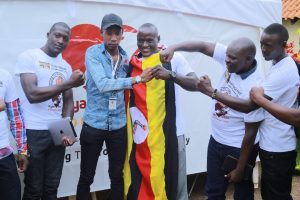 No rejoining the podium  
There were rumours that Bryan White hopes to streamline the process of re-joining the podium. It was said that unlike previous cases, where it was a matter of sweet talking him and introducing your 'very good friends' the next day, this time White had asked the celebrities to apply for positions at the podium in a formal process with their academic documents!
However, this has been summed up as just that – a rumour. Sources close to Bryan White says he has no intentions of recalling them to the podium because, "they weren't doing the core values of the foundation", but he said they remain friends. However, when Bryan White is no longer greasing musicians' palms, your guess of them remaining his friends is as good as ours.
Comments
comments