Let's take a moment and forget the war between Sadolin and Plascon. A new paint company- Snow Paints is here and it promises to be big. Snow Paints is the latest paint company to join the market and it is affiliated to renowned Oceans Paints based in Dubai.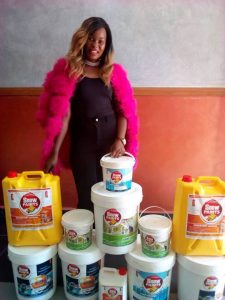 Well, we are not here to discuss the paint, but rather to inform you that the new company recently appointed singer Barbarita of Akatijjo fame as their brand ambassador in Uganda.
According to reliable sources, Barbarita signed up with the company for a two-year deal.
The source told us the deal was sealed by the singer's manager Martin who is a top player in the construction business. Barbarita has already kick started work by donning Snow Paints wear as well as posting about Snow Paints products on her social media pages.
The source added Babarita is going around inspecting structures where the paint is being used and recording short videos which she will later share on her social media platforms.
Both Barbarita and her manager were tightlipped about how much they bagged from the deal, but our sources told us she might be earning in the excess of 20k USD per year. Congrats Barbarita!
Comments
comments