The news of UN's alleged plan to relocate their base to Nairobi was met with panic and shock. According to sources, the business community in Entebbe were in utter disbelief. Multi-million businesses like apartments were reportedly to be affected. Furthermore, over 400 Ugandans employed at the base would lose their jobs.
However, by the stroke of a pen to UN Secretary-General, António Guterres, President Museveni has reportedly saved the plight of the employed and the business community.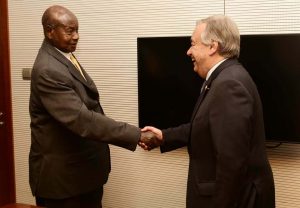 The president reportedly penned a protest letter to UN stating that Uganda would continue to host the UN Base.
Guterres had reportedly approved the plan to move their base earlier this month, but it received opposition from the Ugandan government.
Comments
comments