NBS TV's Simon Lutaaya had a brief spell in prison after court convicted him over failure to pay election petition costs. He was released from Kirinya Prison where he spent four days.
While narrating his prison experience, Simon revealed that he thought it was all over.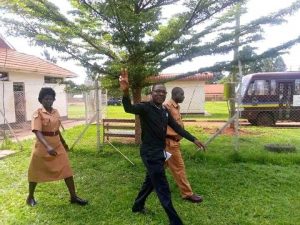 "At the time I left to go to prison, I knew I was finished because the verdict was 'convicted and sentenced for 6 months' because I had failed to get the money. When I reach prison, I had to squat because every time someone is talking you have to squat, then we were asked to give in all our belongings, the phones, and then I was told to remove my shirt, I felt like sobbing. I was then given a yellow shirt and short and I was branded as a criminal as well, the clothes you put on don't differentiate you from all the rapists and other offenders. In prison, you don't sleep wide, you sleep like a fish because we don't have enough space. You sleep like charcoal sacks because where I put my head is where someone puts there legs", he explained.
Comments
comments