The director Interpol Uganda police Dr Fred Yiga have commended management at Middle East Consultants Ltd Uganda's largest labour recruiting and exporting company for being diligent while carrying out their labour exporting activities and maintaining a clean record.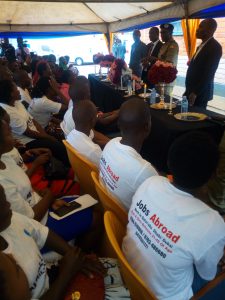 Dr.Yiga made the remarks while giving a key note address to over 100 Ugandan youths at Middle East Consultants headquarters in Muyenga who left yesterday afternoon for Jordan to work as cleaners.
The Interpol director noted that as police chief in charge of policing Ugandans who work abroad, he has never received any bad report from any Ugandan recruited abroad against Middle East Consultants.
"I want to commend you for being diligent and maintaining a clean record, I have not seen or received any complainants from the people you take abroad that they got problems."
He added that, "The good thing with you is that your people go in company branded T-shirts which means you use the airport and it is easy to identify you even at broad not like other briefcase companies who use panya-panya to sneak people out ending up suffering there."
Dr Yiga also advised those leaving to develop a saving culture for their earnings if they are to realize from their hard work.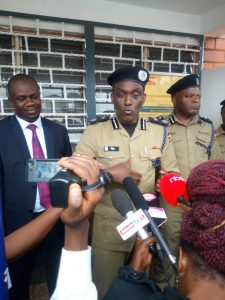 He also urged them to remained disciplined at their place of work if they to win trust and love from their employers.
"Have good behavior, you can't make money if you are misbehaved" He advised.
Gordon Mugyenyi the Middle East Consultants Managing Director also noted that the company takes the lives and rights of Ugandans the company takes abroad as the first priority.
Mugyenyi explained that they keep in touch with the employers and the workers association in the Middle East to ensure that the people taken by Middle East Consultants are safe."
"For us at Middle East we don't give tourist visas, what we give is employment visas and we sign an agreement with the employer. We also remain in contact with the employer so in case of anything we contact them immediately and solve the issue there and then. Mugyenyi said.
He added that Ugandans who were taken by Middle East Consultants to Middle East countries formed an Association headed by an elected president and his cabinet which also helps to handle their issues while liaising with their employers.
"At every end of 4 months, Middle East Consultants sends its representative to countries where our people are working from for fact finding to ensure that they are well and safe at their places of work".
The Managing Director also revealed that the company introduced to its people a saving culture where they are in a group of 10 people where they collect their monthly salary and give it to one member on rotational method something he says has greatly helped them.
"If they are in a group of 10 people and each one is earning 2m, if they collect 20m and give to one person and he/ she sends that money home and buys a land of shs 20m that means at the end of one year he will sell it at shs 60m thus making profits. "He explained adding that Ugandans have market than West Africans calling those going to remain disciplined and keep Uganda flag high.
Comments
comments