Islamic University in Uganda has come out to clarify on the alleged suspension of students over being involved in love affairs. According to the university, there were various cases which included theft and pregnancy outside marriage.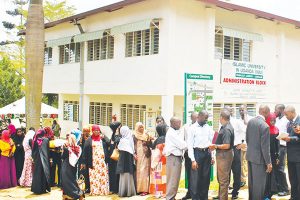 "The fact is that the University handled 23 disciplinary cases at the Disciplinary Committee meeting that sat on 13th April 2018. The cases handled included theft, consumption of alcohol and pregnancy outside marriage, among others; whose punishments range from an apology to discontinuation according to the University policies. Those out of the 10 discontinuation cases, only two were final year students", Rehema Kantono, the PRO stated.
She further clarified that students were urged to appeal.
"It is important to note that several of those students, who were not satisfied with the decision of the Disciplinary Committee appealed against the decision to the Executive Board, the highest decision making body of the University, and those who were meeting the financial requirements were allowed to sit for their examinations.We also wish to inform the public that a formal communication about these disciplinary cases shall be released on Thursday 26th April, 2018 after the Executive Board has handled the appeal cases", she stated.
Comments
comments