On Friday, Lidtech Uganda Limited under the Takula Cash lottery handed over a cash prize of Sh20million to Muguuti Steven a boda boda rider and resident of Kyanja, Wakiso district.
For Muguuti to win, he bought a soccer scratch card at Shs4k and to his surprise, the home win was higher than the away win hence emerging the winner of the cash despite it being his first attempt.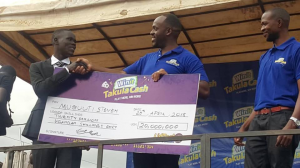 "I'm so happy to be the winner of Shs20m and the trick to winning is very simple, just buy the cards and try your lack," stated Muguuti
Allan Ogutu , Director, Lidtech Uganda explained that Takula Cash is a scratch & win lottery that was launched Last year in December and has registered over 34,000 winners sharing over Shs200million.
 How to Play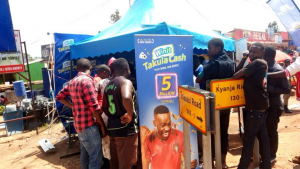 The object of the Instant Lottery Game is for a Player to scratch the game area and match 3 symbols.
 How to validate your ticket
Every Takula Cash player will need to fill in personal details: name, contact and signature and it is the responsibility of the player to ascertain that the Instant Lottery Ticket hasn't been defaced or already scratched. After the completion of the name, cellphone number and signature section of the Instant Lottery Ticket, the person whose personal details appear on the Instant Lottery Ticket shall be the sole owner of that Instant Lottery Ticket.
Where to play
For ease of accessibility of the Takula Cash cards, they are available in all major towns, including Kampala, Entebbe, Masaka, Mbale, Mbarara, Lira, Gulu, Hoima amongst others.
Comments
comments