Kampala Metropolitan Spokesperson, Luke Owoyesigire Luke has revealed that Makerere University senior administrator Mr Kisuze Edward has been charged with rape.
Like we reported earlier, Kisuze claimed that Rachael was his girlfriend and the two were in love before he dumped her for another catch.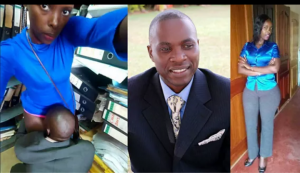 "He says they have been in a relationship. I am not talking about the exact picture that came out because we are not here to determine whether it was him or not but he accepts he knew the lady and they have been in a relationship,"Owoyesigyire said.
"A file has been opened with Charges of rape, sexual harassment' Owoyesigyire added
Kisuze is expected to appear before court after his file has been taken to the resident state attorney for advise.
"The file is going to be sent to resident state attorney for advice and when it is back we shall know when to take him to court," Owoyesigyire said.
Comments
comments