Diamond Platnumz's brother Romy Jones has been exposed for attempting to snatch another man's girlfriend even when he wedded less than four months ago. Romy Jones, real name Romeo Abdul Jones, was reportedly making sexual advances on Tanzanian artiste, Baraka the Price's girlfriend Najma.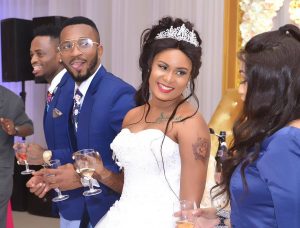 Baraka exposed Romy's affair with his bae on social media after finding his salacious text messages in her phone. In an angry rant Baraka called Romy a "shenzi (foolish) type" and a "wack pimp". Baraka later posted a video clip of Romy Jones saying he loves his wife, and branded him "chicken head" for his hypocrisy.
In retaliation, Romy shared a post from Ugandan comedian Anne Kansiime as though to downplay his cheating.
"Leaving a man because he is cheating is like leaving a country because of rain. It rains everywhere my sister sit down," the post read.He, however, seemed to have realized his mistake as he later posted an apology post in which he praised his wife calling her his love, his best friend, his happiness and his everything.
Comments
comments