After years of public ridicule, over so many factors, including his dormant role, our dear Vice President of the Republic of Uganda finally has something to show off about.
We can confidently reveal that after a very long time, VP Ssekandi must have finally found himself a wonder skin doctor. According to our sources at Parliament, the Bukoto Central MP's skin has undergone a very fundamental change. Ssekandi has for so long been ridiculed for having a rough facial skin, among other things.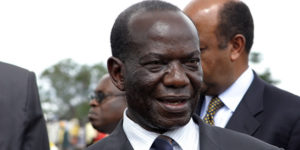 And, according to our sources, the VP's skin has been changing since the year began. Going by a recent up close photo, it is simply fit to appreciate the remarkable transformation Ssekandi's skin has undergone.
Our sources dug deeper and have gathered that after several attempts, the VP landed on a skin doctor in Dubai, and the rest was history. Word has it that Ssekandi has in the recent past, made several trips to Dubai and his trips have yielded great results so far.
"Ssekandi's facial skin looks much clearer and better," the source revealed. Join us to congratulate our dear VP upon such a tremendous milestone!