Captain Mike Mukula was yesterday unveiled as the patron of Uganda Music Association, at the association's meeting at Silver Springs, Bugolobi.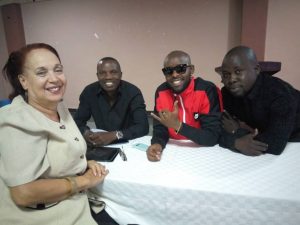 The chairman, Mr Julius Kyazze  stated that association hopes to usher in a new wave of change for the future.
"This signals a new wave of change and the future of Ugandan musicians", he stated.
Captain Mukula's highlighted the need for musicians to unite and build formidable brands. He also Contributed Shs5m in cash towards the association activities.
The executive committee also contributed another Shs5m and other other members including Eddy Kenzo, Haruna Mubiru, Dj Kikofila, Ykee Benda and more contributed cash to bring the total collection to about Shs14m.
According to sources, the funds will be used to secure office premises and furnish them. Prof Maggie Kigozi who spoke to the members and encouraged them to foster more business collaborations.
He reminded artists about their status as investors and urged them to partner with the Uganda Investment Authority in order to enjoy investor benefits.
Comments
comments