The internet has been ablaze with the selfie of one Njoroge Racheal Njeri as a man went down on her doing the obvious in a public office.  It turned out that it was a Makerere student and one administrator. In a statement to Makerere Police Post CID revealed that she was sexually harassed as she went to certify her transcripts.
It reads: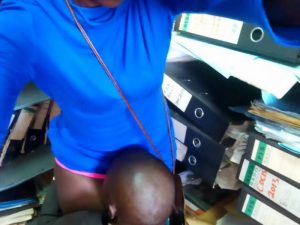 She came to pick her transcript
"I Njoroge Racheal Njeri Reg No:13/k/2347/eve came to Makerere University on 13/4/2018 to certify my transcript and pick up my recommendation letter at around 10 am.When I got to the university, I was referred to room 507 for help where I was first chased away by the personnel in the office and he told me to wait until 2:30pm that he could help me out. I went out and waited patiently on the bench but when it clocked 4:40pm, I could not wait anymore and I went back to see if I had succeeded. When I got in the room, the staff told me to wait for 5 minutes and see if my transcripts had been worked on. Fortunately, my transcripts were certified and were handed over to me.
Administrator turns into animal
As I was looking through them, the man who had given me my transcript turned to be so unhuman to me. He grabbed my boobs and started licking them as he lamented how much he loved me. I tried to resist his actions but he was more stronger than I. He also grabbed me and threw me on the file cabinets at the corner where my head was hurt by the files and he started kissing my thighs and he told me that he had to lick my vagina.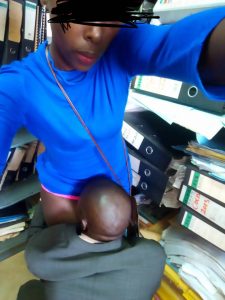 Takes selfie
While he was in the process, I got my phone and captured some shots because I realized there were no cameras in the room to help me out if I had reported the case. I tried calling Steve in room 515 to help me out but unfortunately the man (room 507) hanged up on me and threw my phone on the chair. He continued harassing me and that's when he put his fingers in my vagina which was so painful to me.
I threatened him that I was going to report and make a call to Steve and that's when he opened for me the room since he had locked it. I got out crying. "