Vipers SC were caught in some form of controversy last week after their Player of the Month prize—of 10 bags of cement—was questioned on social media. Can you imagine, though, having to settle for a stone, t-shirt or bottle of milk?
BY WILLIAM KASOBA
Vipers SC is one of the few Uganda Premier League clubs which reward their most outstanding player for every month. And in keeping up with that tradition, last week, being the first week of April, the Kitende-based club announced new recruit Dan 'Mzei' Sserunkuma as Player of the Month – which achievement earns the lucky player 10 bags of cement from club sponsors Hima, in addition to a gong. Some on social media were not very impressed, and questioned the prize – taking into account the calibre of both club and sponsor.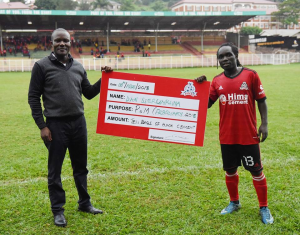 For most athletes who have engaged in a sporting event upcountry, 10 bags of cement is actually quite a big prize. The most common reward is a goat, yes you read that right – a goat rewarded after skipping a raft of tackles from spirited opponents. And what's more; the goat, which goes for about 250k and is to be shared among the entire winning village.
Yet it gets worse. Imagine sweating it out for 90 minutes, displaying Messi-like tricks and the prize at the end of it all is a 10-litre jerry can of 'waragi'? It has happened. One footballer narrated to this newspaper how his team once travelled from Kireka to Mubende to lock horns for just a 'cock'!! And in case you are thinking this kind of drama is only served up in Uganda, well, you couldn't be more wrong!
Racing for the grand prize of a – stone!
The Paris–Roubaix is one of the oldest bicycle races in the world and attracts the biggest stars from all over. The one day event also contributes points towards the UCI (Union Cycliste International) world ranking. However the winner who has to bear riding in rocky routes settles for a 'stone' as a reward. Interestingly the cobblestone is brought on a gold plate which is later retained by the organisers.
 Beer is the big prize for lifting the wife
'Wife-carrying' is an actual sport, with a world championship proper in Finland and competitions around the world. Men race carrying women over a 220-metre course, including obstacles. (Despite the event's name, the woman does not have to be married to the man). With such endurance in lifting, the top prize is the weight of the wife in beer.
 A bottle of milk for winning the race
In the Indianapolis 500 annual automobile competition, winners are handed a bottle of milk and have to drink it on the podium. This was started in 1933 when Louis Meyer, a three-time winner requested milk after his victory, while winners of the annual Nascar races in Virginia are awarded a 'grandfather clock' – a prize initiated in recognition of their region's furniture-making industry.
Conquer the mountains, earn a jersey
We are sure almost everyone has heard that winning the Tour de France is one of the most difficult feats in sports. But did you know that the winner of the Tour de France's poorer cousin- known as 'King of the Mountains' competition, makes you win just a mere jersey—moreover one with polka dots!
Comments
comments