Looks like Maurice Kirya might make a better manager for his brother- singer Elvis Kirya aka Vampino. Just less than a week on the job, the Mwoyo Gwa Kirya singer has already signed up a new weekly gig for his brother.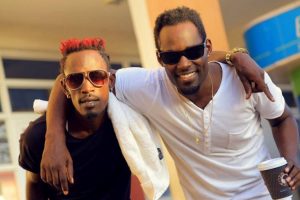 Vampino was earlier this week confirmed to headline a weekly theme party at the new Happy Boyz bar extension located in Kiwatule, just before the famous PK supermarket. Sometime last week, the 'smart wire' singer announced that he had fired his manager and immediately replaced him with his singing brother Maurice Kirya.
The new theme night has been dubbed 'The Variety Night,' and will be hosted by NBS TV Katchup co-presenter MC Isaac. Great start Maurice, and we wish all the best to the brotherhood combination!
Comments
comments