Images of a totally nude former NTV Uganda and Radio City presenter Dave Dash running on the streets went viral on social media sometime last year. To many, it was a fun-filled day as they shared and joked about the nude images. But to Dave, it was a tough moment that would later lead to some sort of rebirth.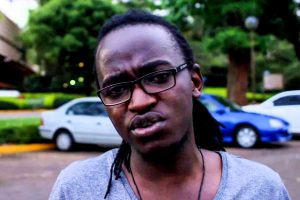 And months later, Dave now a born-again Christian, was last Friday hosted at the Power, Sex and Money' gathering at Watoto Church in Kampala and he made quite some shocking revelations. Dave revealed that he was introduced to cocaine by a certain celebrity.
Dave said drugs were expensive, so he decided to become a dealer to stay in constant supply.  He said he strategically sold a gram of cocaine a bit cheaper than all other suppliers and he recruited many distributors including women. Business was booming, but the addiction was also growing faster every other day!
Dave revealed that he helped himself by accepting that he was an addict and needed help. "I know a lot of people doing drugs and have no friend to run to. I couldn't trust anyone, but I knew I had to turn to God; but I did not know which church could accept somebody like me," he said.
Dave said that when he was taken to rehab, he kept only his bible closer. He said the bible helped him overcome the addiction much easier! Dave urged the congregation and church leaders to accept substance users and help them through recovery.
Comments
comments