Stella Chesang pulled off heroic move after winning Uganda's second gold medal at the on-going 2018 Commonwealth Games Australia, Gold Coast. However, Stella's success did not come easy.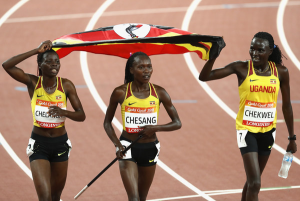 To begin with, Stella qualified for the competition on the final day as Uganda's third choice for the race. Also, it was her first 10,000m race in a major competition. Previously, she competed in the category in local races.
When she made that decisive break with 500 meters left to the finish yesterday, few people thought she could maintain the lead. It was her against all odds.
For the Ugandan contingent, all eyes were on Mercyline Chelangat, who also lived to the billing by winning bronze.
It's now Stella's time. A powerful story worth telling generations.
The 21-year-old Police Officer can also hope that the force will emulate Prisons' reward to Kiprotich after winning gold.
We celebrate you golden girl.
Read also:Stella Chesang wins 10,000m GOLD, Mercyline Chelangat bags BRONZE
Comments
comments