Yesterday, Uganda Revenue Authority netted smuggled bombers of Supermatch cigarettes worth Shs3b. Through their intelligence, the tax body intercepted a brand new Toyota Premio that had reached Kalerwe, a Kampala suburb.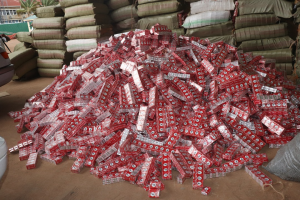 According to the Assistant Commissioner in charge of Enforcement at URA, Agnes Nabwire the vehicle was found with 796 bombers of Supermatch cigarettes suspected have been transported for a hideout in areas of Kisaasi.
However, this was not the only vehicle transporting the goods. Another vehicle containing 2832 bombers of cigarettes also fell in the trap minutes later.  Nabwire further narrated that on interrogation, the suspects revealed that Francis Yeko was the man behind the transportation of the smuggled cigarettes.
"We trailed Yeko until we arrested him from Tororo and on raiding the consolidated house in Kisaasi, we recovered more supermatch cigarettes,"Nabwire told journalists at the URA headquarters in Nakawa.
Comments
comments