During the weekly press briefing at Uganda Police headquarters in Naguru, Deputy police spokesperson Patrick Onyango urged the public (traders and individuals)to hand in all camouflage attires to the security agencies.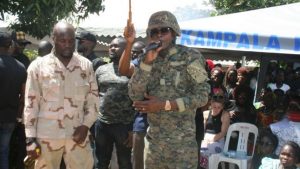 In this,  Onyango  assured that a one ultimatum has been given for anyone to do away with the attires because after that legal measures of arresting whoever is found in possession will be implemented.
This comes following a statement issued by the director operations ordering unit commanders to criminalise the wear and sale of camouflage uniforms. The report also indicated that there will arrests of those found in possession of the attires.
According to Onyango, RPC's and DPC's are set to sit with security committees to forge away forward of implementing the operation.
Comments
comments