Katosi Police has arrested a 24-year-old man identified as Morris Wangolo for allegedly defiling a one year old toddler a residentsof Kisitu Island. According to police, Wangolo asked the baby to pick a sweet from his room where he allegedly defiled her from.
However, after a few minutes the mother had screams of the innocent soul and rushed to the source of the cries only to find her the baby girl walking with difficulty and dress covered with blood.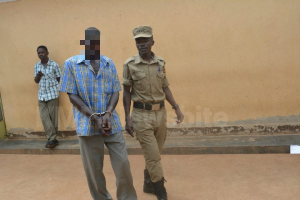 The horrified mother then alerted the entire village who angrily beat up Wangolo who blamed 'the devil' for his actions.
"It was the work of the devil that made him commit such a thing," he confessed.
Police surgeon at Mukono Hospital made examinations on both the girl and the suspect, the medical report confirmed that the toddler had been forcefully defiled, hymen freshly torn and a white discharge in the girl's private parts, suggestive of the presence of semen was found.
A charge sheet for aggravated defilement and the file has been submitted to the Resident State Attorney in Mukono Magistrates Court for advice.
Comments
comments