With most of our stars bowing out in the opening days of the 2018 Commonwealth Games, Uganda's long distance runner  Joshua Cheptegei has delivered a  heroic performance!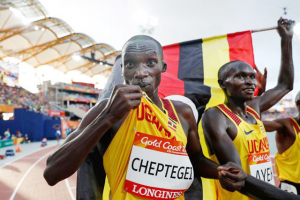 The 21-year-old formidable Cheptegei has won gold! He came first in a hotly contested race despite lagging behind in the five laps. However, he managed to powerfully gain momentum in the final laps hence posting 13:50.83 which got us the first medal at the event.
Canada's Mohammed Ahmed settled for silver as he posted 13:52.78 and  Edward Zakayo from Kenya wrapped up the podium finish coming third in 13:54.06 hence getting bronze.  Other Ugandans Thomas Ayeko  and Phillip Kipyeko finished fourth and sixth respectively.
Last year, Cheptegei revamped he career by winning silver in the  10,000m race r at the World Championships following mocks when he almost collapsed in the IAAF Championship on home soil in Kampala.
Comments
comments