Diamond Platnumz and baby mama Hamisa Mobetto could have amended their differences especially this time, with Zari conspicuously out of the picture! While attending the Sinema Zetu International awards, a movie awards ceremony, the two were the centre of attraction.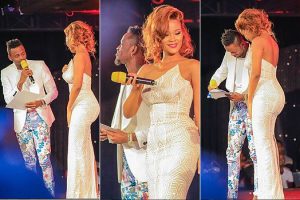 The two were sitting separately before they were called forth to present an award.
Diamond took to the stage and welcomed Hamisa with a warm hug. He went ahead and complimented her beauty and thanked her for being a great mother to his son.
In another incident while at the awards ceremony, when Hamisa was asked who was the best dressed at the event, she stated that it was none other than Diamond Platnumz. Hmmn!
Comments
comments