Rwanda's Paul Kagame and Museveni held bilateral talks yesterday at State House Entebbe. However, on arrival they had a 'rare handshake. President Museveni simply 'tapped' Kagame's hand as his right hand was bandaged. Culturally, it is unacceptable to greet with the left when the right hand is injured.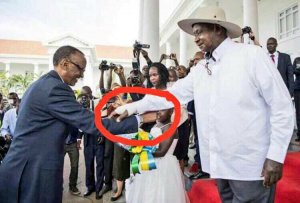 However, opposition figure Dr Kizza Besigye has questioned the 'handshake' saying it was just an excuse for Mr Museveni to refuse shaking hands with Kagame.
"Pictures of Mr Museveni in Kakumiro yesterday with right hand in normal use and bandaged today (Sunday), avoiding to touch President Kagame's hand! Has provoked social media speculation about role of advisers,"Besigye posted on his official twitter account.
While addressing media, Museveni stated that there is no conflict between the Uganda and Rwanda.
Comments
comments