Dancehall artiste DJ Micheal aka King Micheal is surely having the best of his time recently thanks to Bryan White's 'podium'. The singer's fortunes changed for the better after he became socialite Bryan White's right hand man. The 'Muko muko' singer is said to be jealously guarding his newly found source of wealth.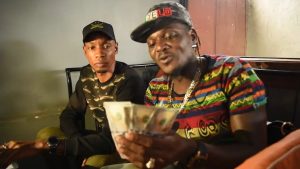 After Bryan White was reported to have chased singer Ziza Bafana from his compound, Micheal allegedly laughed off at the attempts of fellow dancehall singer to snatch space at the 'podium'. Ziza allegedly approached Bryan White with a praise song but he declined the offer and ordered the singer out of his compound.
DJ Micheal allegedly described himself as the only 'dancehall king', a statement which targeted Ziza. Micheal is one of the artistes signed to Bryan White Foundation.
Comments
comments