Former IGP Kale Kayihura has today handed over office to his former deputy Okoth Ochola at Police Headquarters, Naguru. Clad in a full military attire, the outgoing Inspector General stated that he regretted the mistakes made during his term of office. However, he stated that despite the challenges, the achievements outweighed the failures.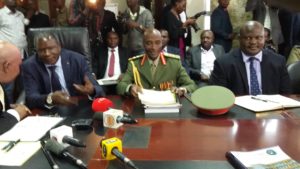 "I regret every mistakes made during my term in office because I am human. However we have more achievements than failure", he stated.
Among the achievements, he stated that the general rate of crime came down during his tenure especially following the aftermath of presidential elections.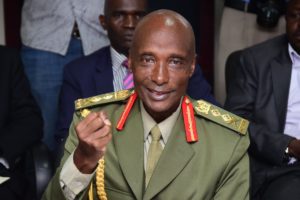 "Strikes happened in different parts of the country and in 2017, there was a slight increase in the crime rate but no one can rub away the fact that in my tenure, the general crime rate came down", he stated.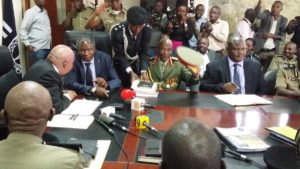 He also stated that he is handing over to much better force.
"I am glad that am handing over a Police force that is much better than it was in 2005 when I joined it, there is no doubt that there are achievements, physical and in terms of organisation", he stated.
He advised his successor to strive for a self-reliant Police force. He further advised Police officers to maintain discipline.
"I have never had any personal problems with anyone. I want to thank the Police Constables and staff who have continued to work in difficult circumstances but I advise them to stay disciplined, those who have been sweeping our floors, thank you", he stated.
Comments
comments