Following the recent shaky run of games in the last five league games that saw West Nile side Onduparaka FC grab maximum points in one  game and share spoils in another, the club has asked coach Livingstone Mbabazi to step aside till further notice.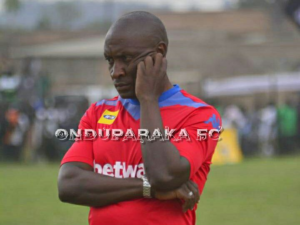 "We would like to thank you for your unwavering support during our good and bad times.  Management is concerned about the recent form and performance of the club and as such we have gathered opinions from our board, management and fans and come up with measures that will aim to get the team back on track. These decisions are never taken lightly but always in the interest of the club. We are in a results business and over the back end of last season and this season to date, ours have been very disappointing", part of the official statement reads.
"In light of the above, the management has asked its head Coach Mr Livingstone Mbabazi to step aside with immediate effect from our UPL MD 21 Clash with UPDF until further notice. As this takes effect, the club will make further inquiries into the possible challenges affecting the team and communicate its decisions in due course."
However, Mbabazi's assistants Leo Adraa, Simeon Masaba, Moses Oloya, Adiga Morris and Musema Ramathan have retained their duties with the club promising to make official statement on who will lead the team for the remaining part of the season.
Comments
comments