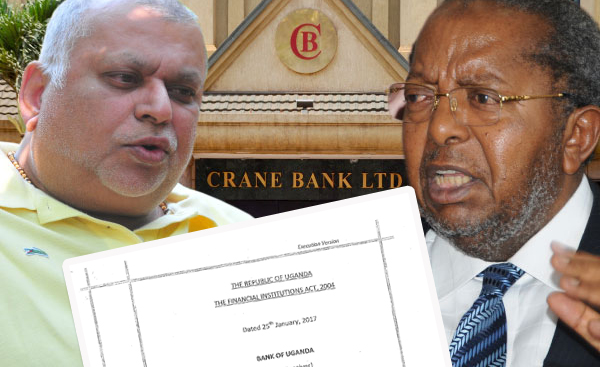 Have you ever sold an item, but the sale agreement doesn't include the price? Most likely not. But that is exactly what the agreement of sale of Crane Bank Limited to Dfcu Bank by Bank of Uganda looks like.
The 22 page sales agreement has leaked and now the former Crane Bank shareholders are taking legal action over the "fraudulent way in which the bank was sold."
The agreement was signed on January 25, 2017 between the central bank governor, Tumusiime Mutebile and Juma Kisaame, the managing director of Dfcu.
Click here to read the full agreement.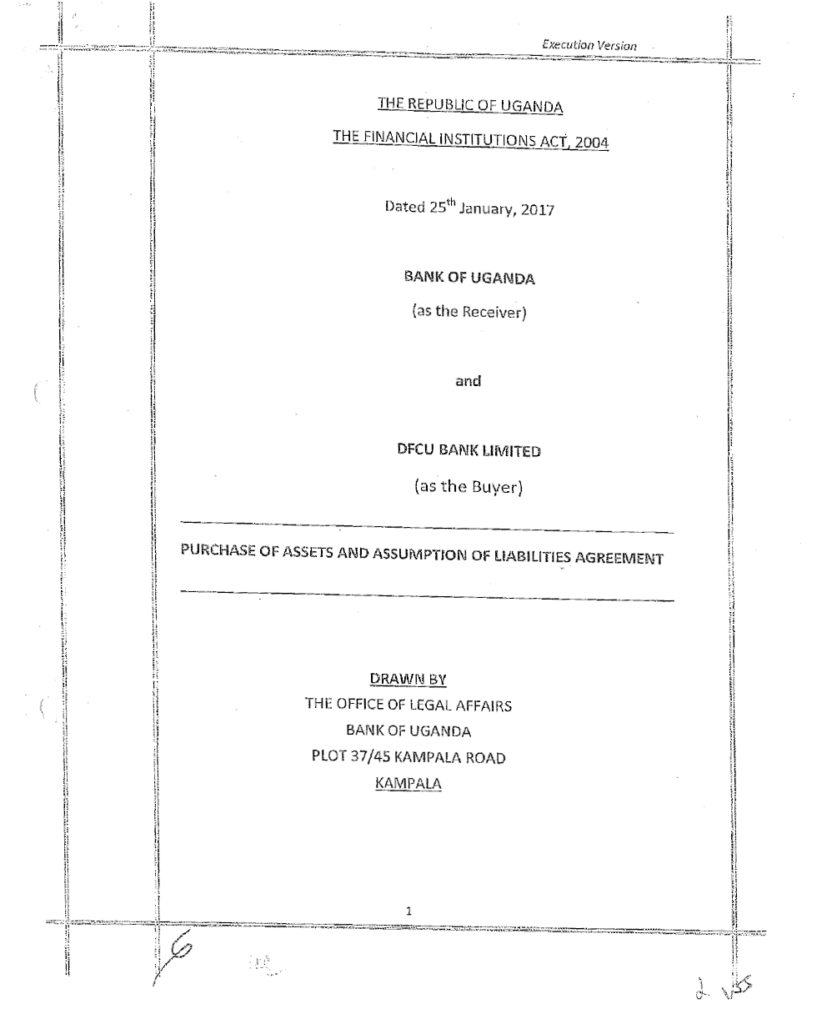 The agreement was analysed for the CBL shareholders by a seasoned lawyer (names withheld) who pointed out several legal loopholes that Crane Bank shareholders who were sidelined in sale will rely on to get justice.
The first point of contention is that the agreement excluded Crane Bank shareholders contrary to the financial institutions Act
On Page 3 of the agreement, it is stated that: "The receiver (BOU) has negotiated and concluded an arrangement in the interests of and for the benefit of the depositors and creditors of Crane Bank Limited."
The Receiver is obliged by law to also cater to the interests of the shareholders of CBL, which wasn't the case.
"Because the interest of Crane Bank's shareholders were ignored, Dfcu could find itself embroiled in expensive legal suits as shareholders try to claim what is theirs," part of the analysis reads. Already Dfcu is embroiled in multi-million dollar law suits with tycoon Sudhir Ruparelia over former Crane Bank properties that Dfcu apportioned itself and rent arrears it ignored to pay.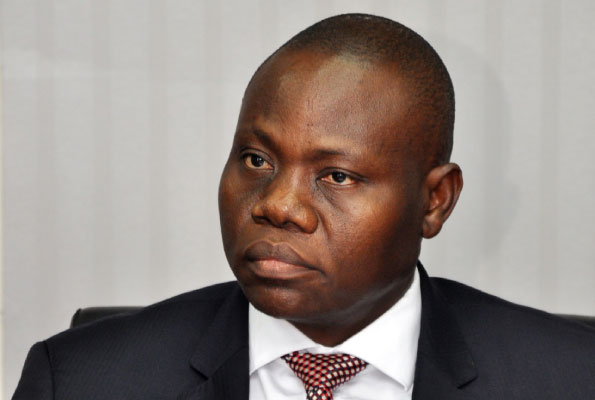 Deliberate silence on value of assets and purchase price
The second bone of contention is that that the agreement was 'deliberately silent" on material terms that required to be specified in an agreement of that kind.
For example the agreement does not state the value of liabilities assumed by Dfcu or the value of assets taken over by Dfcu.
It also didn't state the amounts of money to be paid by Dfcu as a net purchase price.
"What kind of agreement doesn't state a purchase price," the lawyer who analysed the agreement states in notes to CBL shareholders, a copy to which Matooke Republic has accessed.
The shareholders of the bank included: Sudhir Ruparelia (28.83%), Ms Jyotsna Ruparelia (13.8%), their children Ms Sheena Ruparelia, Ms Meera Ruparelia and Mr Rajiv Ruparelia (1.99%), White Sapphire (47%), Jitendra Sanghani (4%) and Kampala businessman, Tom Mugenga (0.003%).
Also, the agreement doesn't list assets (outside branches) that Dfcu was taking over. As a result, CBL's total assets worth Shs1.3 trillion were valued at only Shs10 billion by BoU's accountants PWC.
According to documents we accessed, the material terms that were deliberately skipped in the agreement were agreed upon secretly and fraudulently outside the main agreement.
"The net result of these fraudulent side deals was that Dfcu got a bank with Shs1.3 trillion of assets for a net payment of just 200 billion (payable under side deals over a period of about three years)."
As a result of taking CBL on the cheap, a fact to which Dfcu bragged about that they got CBL at a giveaway price, Dfcu reported growth in annual profits for Shs31 billion to over Shs150 billion.
"This five-fold increase in profits was in just 90 days, when all other banks in the economy were reporting drops in performance," the analysis states.
The CBL shareholders state that since Dfcu got CBL assets for close to nothing, it constitutes fraud against them and taxpayers (whose money was invested in CBL after BOU's takeover of the bank).
"The officials of BOU and their legal advisors shall be sued and criminal proceedings will be taken out against them for this fraud perpetrated against shareholders of CBL and the Ugandan taxpayers," the document states.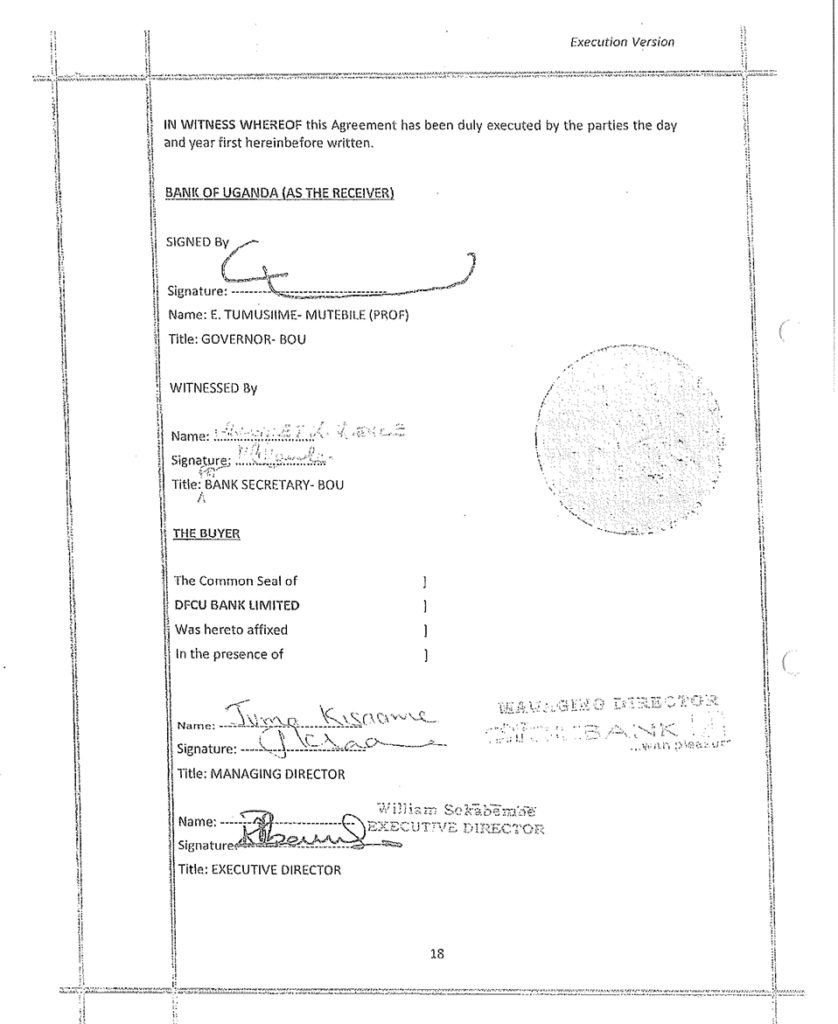 Free Shs600 billion bad loan portfolio
Another contentious issue is that Dfcu fraudulently and in connivance with Bank of Uganda officials took over a Shs600 billion bad loans portfolio for no payment at all.
BOU classified the loans in contention as non-performing, had the CBL shareholders pay for them to the tune of Shs350 billion and then they were secretly transferred to Dfcu.
"By this arrangement, these non-performing loans were no longer property of CBL, but belonged to the shareholders who had paid for them with their capital contributions."
Former BoU Executive Director Supervision Justine Bagyenda reportedly gave Dfcu permission to secretly account for these bad loans outside the official books of Dfcu bank.
"Bank of Uganda did this knowing that although these non-performing loans were classified as worthless for accounting purposes, they were all fully secured by valuable securities and a large portion of them were collectable," the lawyer notes in the analysis document.
Also, Dfcu and BoU hatched a plan to take over Crane Bank leases without the knowledge and written consent of the owner (Meera Investments Limited). Dfcu has already been sued by Meera to return the leases and vacate the premises in contention which total to 48 in Number.
But perhaps most interesting is that the legal advisors of BoU in the sale transaction with Dfcu immediately became legal advisors of Dfcu bank and began to make collections for Dfcu on the same assets and portfolio they had transferred to it, which smirks of conflict of interest.
The lawyers in question MMAKS Advocates and AF Mpanga (Bowmans) are no strangers to conflict of interest as they have already been thrown off a case where they represented BOU against tycoon Sudhir Ruparelia relating to the takeover of CBL where the judge ruled that they were conflicted having been the business mogul's lawyers.
"The shareholders intend to file a legal claim against these lawyers to recover all the legal fees that have been made on these illegal transactions," the document states.
With several cases and counter cases relating to the takeover of Crane Bank, court could have to set up a special division to conclude the matters. One thing for sure though, Dfcu got Crane Bank for a song (another term to mean cheap), but it might have been a bad tune (after all they say, cheap things are expensive).
Comments
comments