An upcoming musician known as Wendy Thelma has of recent impressed many on the music scene with her sleek voice after she re-did late Mowzey Radio's songs as a tribute to him. According to the Goodlyfe manager, Chagga, when they heard the sleek voice, they begun to hunt for her.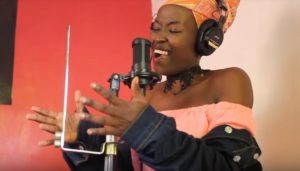 Chagga says that he personally contacted Wendy and her manager for a possible discussion that can lead her to joining the music label but was disappointed by the terms and condition her manager Roger Kent tabled.
" When I heard about Wendy's sleek voice, I contacted her. In our discussion, I made it clear that I don't want to deal with her manager rather herself directly. I told her she comes around we discuss the possible way of her replacing the late but instead Roger her manager intervened and our discussions collapsed," Chagga said.
Chagga went on to say that he couldn't allow Wendy to join Goodlyfe yet at the same time, retains her manager.
" Her manager refused her to join us without his interference. She listened to him and forgot we were giving her a platform to have her music noticed. When I checked on YouTube, I realised Wendy begun singing way long ago but her music has been there", Chagga revealed.
However, Chagga adds, that Goodlyfe has decided to give Wendy time to make up her mind and when she's done, the business talk will continue.
So far the allegations that the upcoming musician Wendy had been signed to the Goodlyfe music label turns out- not true.
Comments
comments