Allegations are making rounds stating that Goodlyfe is in a search for a new manager to replace Chagga. Also, it has been reported earlier today that Chagga has been sacked by Goodlyfe. However, Chagga denies the allegations and maintains he is the manager at Goodlyfe.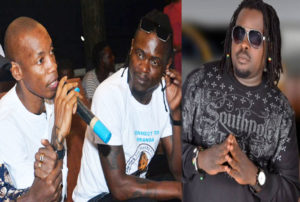 In a brief interview with Chagga, he says he no longer wants to do press interviews.
"I don't want to do any other interview because the few ones I have done turned to be against me. I can't compete with my rich enemies anymore. The people I care about most;  my family and children have advised me to stop talking to the media," Chagga revealed.
When we tasked him to explain, he revealed that his 'enemies' have an upper hand in the media to tarnish his reputation.
" My name is Chagga Yaga Yo, a name I have built for 10 years and over. Surprisingly, my enemies are just using the money to bring me down. In a bid to get back my artist back to business, I have been branded a  bad one. But the fact that I will remain a Goodlyfe manager and Weasel is with me," he added.
Over the weekend, Chagga was quoted blaming Bryan White for misleading singer Weasel with empty promises.
Comments
comments