According to the Directorate of Ethics and Integrity, talks are already in progress with the Ministry of Education and Sports to incorporate pornography into the school curriculum.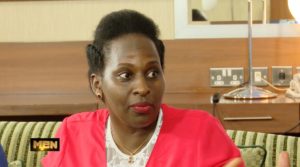 Dr Annette Kezaabu, the Chairperson of Pornography Control Committee says that will help children in primary and secondary schools to get knowledge about pornography and its effects so as to avoid it.
Addressing press conference at Lake View Resort Hotel in Mbarara, Dr Kezaabu noted that many people in the country are already addicted to pornography through different electronic and print means and vowed to reverse this trend using the ant pornography law.
In a presence of Rev Canon Aaron Mwesigye the director for ethics and religious affairs in the office of the President, Dr Kezaabu added that the directorate is currently sensitizing the public about the anti-pornography law warning that whoever shall not heed will be arrested and prosecuted.
She sent sound warning that they will be summoning the Police Officer whose pictures went viral on social media last week, to answer charges of distributing pornographic content.
Comments
comments