City socialite Bryan White's association with Goodlyfe is attracting more controversy. News coming from Goodlfye camp indicates that manager Chagga, Weasel and tycoon Bryan White are in bad terms.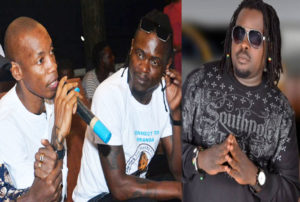 Chagga accuses Bryan White of running away with his artiste to the extent of cancelling some shows where Weasel is expected to perform. Chagga adds that his artiste also has ignored his advice to cut ties with White Bryan and rather concentrate on music.
In an interview with Radio Simba , Chagga stated that Bryan White has misled Weasel.
"Bryan White has successfully used his money to mislead my artist. Weasel follows him like a dog wherever he goes. I really miss late Radio because he couldn't allow money destroy our brand. Bryan white lies Weasel all the time that he will take him to the president for financial help and foolishly he allows", Chagga stated.
Chagga further revealed that Weasel has landed him in trouble with music promoters after the cancelling shows.
" Right now I am a wanted man. Weasel made me cancel tow shows in Busia after promoters had fully paid their money. On the d day, I called Weasel and he kept on tossing around and later informed me that he has hopes of meeting the president on the same day so he can't afford to miss. He told me we shall refund the promoters money. Sadly he has never met the president," Chagga explained.
Explaining about the announcement he had made about Goodlyfe cancelling ties with Bryan White, Chagga revealed that he was attacked by the late Radio's family.
" I totally no longer have any control of Weasel. We last met when we were shooting Tokyayitaba video because he is always on the move. I am worried by the time Weasel realises that Bryan White is misleading him, he could no longer be relevant. The other day I made a statement on social media that we have cut off links with Bryan White but I was made to pull down the statement after late Radio's family complained that the tycoon is building the late's mum house so he didn't deserve such treatment", Chagga concluded.
Comments
comments