Singer Jose Chameleone is not only a talented singer, songwriter and music producer! It turns that he has impeccable fine art skills too! Chameleone awed fans after he shared his drawing; a beautiful portrait of fallen singer Mowzey Radio.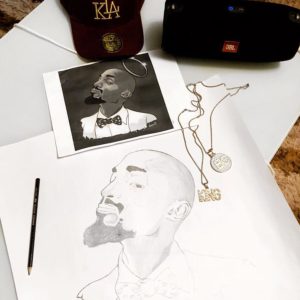 Chameleone revealed that when he met Radio, the fallen star surprised him with a portrait which was personally drawn.
"The first time I met Moses Nakintige 'Radio' he presented a drawing of me in pen he had drawn to present to me. That was the beginning of a brotherhood that lasts forever. To tribute my friendship and brotherhood we shared am taking time to draw this portrait of him as the tribute. I'm almost done though. I am happy that my pencil is defining my feeling for a fallen Hero," he posted on Facebook.
To wade off any doubters, Chameleone has also shared a video of him drawing the piece.
Mowzey Radio started his music career under Jose Chameleone's Leone Island Crew acting as backup singer with Weasel before the two formed teamed up to form Goodlyfe.
Comments
comments