Speaking at the Women's Day celebrations in Mityana, president Museveni cautioned men against domestic violence. He revealed that he has excellent anger management skills and has never even 'pushed' Janet in the union that spans close to 50 years!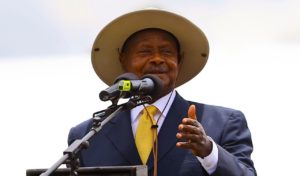 "I've been with Janet for close to 50 years but I've never even pushed her, when we have our fights, I just leave her in peace and go somewhere else. Men stop beating women, we even stopped cattle keepers from hitting cows, what then makes you beat a woman? When you see a man beating a woman, know that he's stupid and he's a coward because if you want to fight, look for a fellow man", he stated.
He further advised women to work for self-reliance and attain economic empowerment to evade violent men.
"Women say they don't report the men because they're dependent on the man. Women, get your own property so that you can stop depending on men for everything. If your husband disturbs/beats you, park your things and go. Girls should not go into marriage because of legalized prostitution, they shouldn't be swayed by wealth, it should be because of love", he advised.