New appointees Gen Elly Tumwine, Martin Okoth Ochola and Brig Sabiiti Muzeyi are today expected to appear before the Appointments Committee of Parliament for vetting. The three were last Sunday appointed by President Museveni for Security minister, Ochola IGP and  deputy IGP respectively.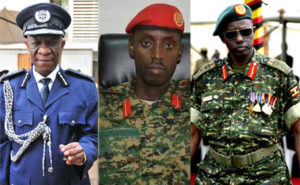 However, since their appointment to the positions, Brig Sabiiti has attracted more critics especially from the opposition who say military officers should no longer be given any position in police.  Some MPs also said that Sabiiti commanded the elite Special Forces Command that invaded parliament last year hence injuring various opposition MPs.
In this the legislators urge that his appointment is a strategy of Museveni to continue frustrating opposition agendas.
Comments
comments